McCoy plays hero as Washington shocks the 'Boys
10/28/2014 11:53pm
last edited:10/30/2014 7:25pm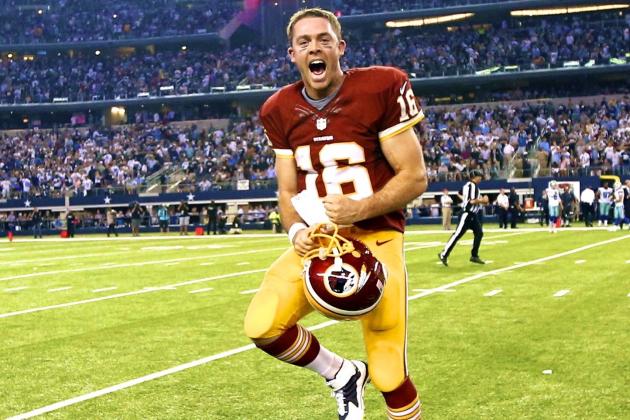 ---
Colt McCoy didn't just pump his first or point to the sky when Tony Romo's pass to Dez Bryant on fourth-and-three was knocked away by rookie cornerback Bashaud Breeland. He leapt off the sideline, jumping around and displaying the passion that has propelled him through all the animosity he has faced over his five-year career. In that moment, all the frustrations of his time with the Cleveland Browns and all the people that wrote him off as a college has-been melted away. For he was one thing last night, the thing he was known as most during his tenure at the University of Texas: a winner. God knows somewhere in the world Matthew McConaughey—a UT alum and avid Redskins fan—was letting out a little "Alright alright alright" in his Lincoln.
Though nobody came out and predicted McCoy's emergence, he had the support of his team long before they shocked the Dallas Cowboys 20-17 in overtime. Following the game, Washington Redskins head coach Jay Gruden was asked about how he prepared his team for a game the entire country expected them to lose. Clearly irked, he retorted, "The whole country, except the 53 guys in here, and the coaches." Can we blame him for feeling fired up after a win like that?
Sporting a 2-5 record and led by their third-string quarterback, who hadn't started an NFL game in nearly three years, the Redskins were expected to get blown out. After all, they were playing with an injury-decimated roster on the road against their biggest rivals, who were riding a six-game winning streak thanks to the sweet feet of NFL rushing leader DeMarco Murray and Tony Romo's savvy quarterback play. It seemed as if Washington had been served up on a silver platter for Jerry Jones and the Boys.
But despite the fact that every talking head on ESPN picked the Cowboys to coast to an easy victory, it was clear from the first snaps that McCoy & Co weren't going quietly. Washington began the game by sacking Romo on an all-out blitz to kill Dallas' opening drive, putting the veteran on his back—a sight that became all too familiar (and painful) throughout the night. That set the stage for McCoy, who had gone since December of 2011 without starting an NFL game. His jitters were evident early on, as he looked shaky throughout the Redskins first several drives, especially on an interception he threw in the Cowboys' end zone.
This wore off, though, and he began to look more and more comfortable as the game progressed. Pairing his scrambling ability with good decision-making, McCoy dodged and sidestepped defender after defender as he peppered the Cowboys with an effective mix of short and mid-range passes. Then, when Dallas would creep up and stack the box, he aired it out deep to the speedy DeSean Jackson, who was behind the defense all night. Had McCoy delivered a few passes more in front of Jackson, the two would have probably connected for a couple of backbreaking touchdowns instead of long completions. McCoy was able to joke about it after the game, saying, "That guy is fast. I've got to get used to his speed… I can't out throw him."
But for as many opportunities that he missed out on, McCoy created far more when his team needed it most. Time and time again he was able to evade pass-rushers and either find an open man downfield or run it himself, including a gutsy 6-yard quarterback draw on third-and-goal to give Washington a 17-10 lead early in the 4th quarter. No play displayed his athleticism better than when he found Jordan Reed for a critical 16-yard completion in overtime. Taking the snap at the Dallas 45-yardline, McCoy was able to avoid the pressure and escape to his left, where he pointed downfield and lofted a beautiful touch pass to Reed, who contorted his body to make a twisting, toe-tap catch along the sideline. This proved to be the play of the game, as it got the Redskins in field goal range for Kai Forbath's game-winning 40-yard field goal.
McConaughey loves the 'Horns and the 'Skins. He must have been in football heaven last night.
---
There's something almost too good about this story. Journeyman quarterback leads huge underdog into Goliath's house—which happens to be in his home state—and stones the giant. This was supposed to be the night when McCoy struggled on the big stage and Romo shined. And yet it was all but opposite of that. By game's end, the former Longhorn was 25-30—an 83% completion rate, the best in franchise history—for 299 yards and a rushing touchdown. Romo, on the other hand, looked confused all game and only led a single scoring drive while folding in the face of Washington's blitz-heavy defense.
With a Hollywood scenario such as this, one can't help but refer to movies. I immediately thought of "The Waterboy" and Dan Fouts screaming, "It's because they didn't hold anything back!" as I watched #16 scramble around making play after play. Better yet though, this performance is more like a real-life version of "The Replacements." Sure, McCoy is far more likeable and is probably a better actor than Keanu Reeves, but for at least for a night, he played the role of Shane Falco pretty damn well.