WRs to Pick Up Off Waivers
09/25/2014 2:53am
last edited:09/25/2014 1:34pm
1. Brian Quick (Rams) – Austin Davis and Quick seem to have good chemistry and with Tavon Austin hampered, Quick is clearly the best Rams receiver to have on your team. If he is still available, you should pick him up immediately. He has caught 16 of the 22 passes thrown his way, managing approximately 80 yards per game. He has one touchdown so far.
2. John Brown (Cardinals) – Drew Stanton, who is starting in Carson Palmer's stead, has built a good rapport with Brown over the past couple weeks. Both of Stanton's touchdown passes this year have been to Brown. Of the 9 receptions Brown has this year, three have been for touchdowns. Nobody could have seen this coming from a rookie. Brown has only been targeted 5 times per game on average so far, but he may see more looks in coming weeks.
3. Allen Robinson (Jaguars) – Robinson was targeted 3 times in week one, 6 times in week two, and 10 times last week. This is a nice trend and if he continues to receive a lot of targets, it is only a matter of time until the Penn State rookie reels in his first career touchdown. However, he will have to compete with Allen Hurns for targets once Marqise Lee returns and reclaims his starting job from Robinson. Fortunately, this week's matchup is a good one for Jaguars receivers, as the Chargers have given up 236 passing yards and 1.6 touchdowns per game so far this season.
4. Jordan Matthews (Eagles) – The Vanderbilt rookie impressed last week with 8 receptions on 9 targets for 58 yards and a pair of touchdowns against the Redskins. Matthews is the Eagles' starting slot receiver and it looks like he has finally gotten used to his role after a disappointing first two weeks.
5. Markus Wheaton (Steelers) – Wheaton has been seeing numerous targets from Roethlisberger and has made the most of them, catching 15 balls for 170 yards and rushing for 22 yards over the past three weeks. The Steelers love to air out big balls and drill balls into the end zone, so if Antonio Brown isn't open Wheaton is the next logical choice. Also, if Brown goes down, Wheaton is going to be posting even more impressive stat lines.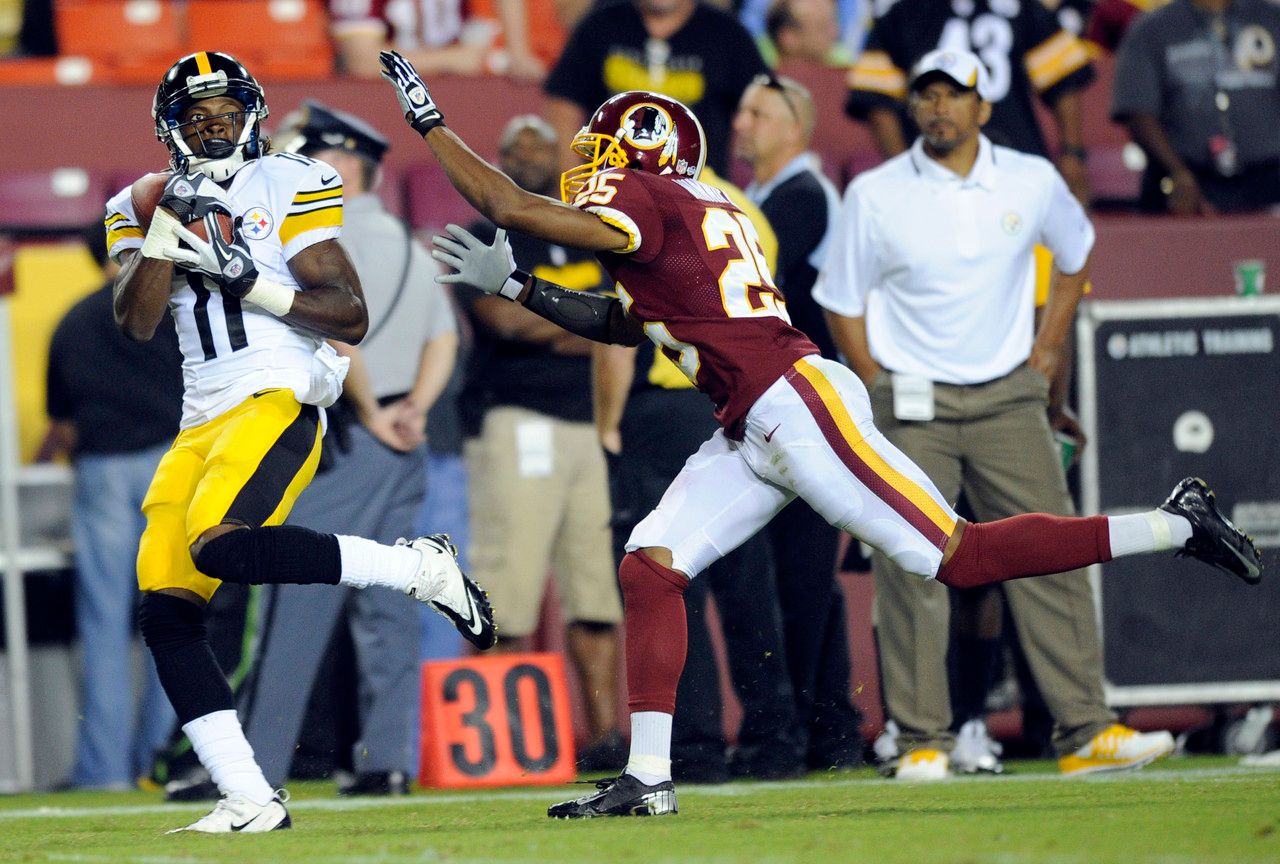 6. Justin Hunter (Titans) – Hunter has been very inconsistent, catching 8 balls on 21 targets so far this season. However, he is a deep threat and a playmaker, so he should see his first touchdown here very soon. His 15.8 yards average is the only redeeming thing about him so far this year. It is too bad he has Jake Locker passing to him instead of someone like Matt Ryan. Hunter's going to have to do better if the Titans intend to make it to the playoffs this year.
7. Doug Baldwin (Seahawks) – Despite not posting big numbers yet this season, Baldwin has the ability to make big plays. The problem is the Seahawks are very averse to passing the ball, as they have a strong ground game with Beast Mode. That being said, Baldwin has been targeted 5 times in each of his last three games. He catches 3 of every 5 balls, giving him a decent number of chances to pick up big yards or a touchdown. I would use Baldwin if I were desperate, but only if my options were severely limited.
8. Jarvis Landry (Dolphins) – Landry is more valuable in leagues that award points for kick and punt returns, as he has 329 return yards in three games, but even if you are in a normal league, he may still be a good option. If rumors are right, and Tannehill gets benched, this may work in Landry's favor because Matt Moore and Landry have had time to practice together on second team drills. In any case, he has been targeted 13 times in the past two weeks, catching 8 of those balls for 73 yards.
9. Donte Moncrief (Colts) – The fifth rookie on this list, Moncrief is a big-bodied receiver who I was following intently going into the draft. After being targeted once in week one and once in week two, he was targeted five times last week, catching four of those balls for 55 yards. He also picked up 7 yards on the ground. After showing his reliability by reeling in six of his seven targets, I expect Moncrief to gain a bigger role in the offense.
10. Santonio Holmes (Chicago) – Holmes isn't a great option, so unless you are in a large league that utilizes three or four receivers per week or you are getting killed by a bye week, I wouldn't pick up Holmes. However, if you are one of those unlucky schmucks mentioned above, Holmes is a decent option. This is because Cutler and the Bears are passing a lot this year, and Marshall and Jeffrey are very fragile as they recover from their injuries. This gives Holmes a chance to make some plays. He has only been targeted 10 times in three weeks, so he isn't the most promising prospect, but he may get a few points for your struggling team.